Heating Using PE-Xb Pipes
PE-Xb technology is used to make plastic pipes from cross-linked polyethylene. These pipes are also used to distribute heat as heating pipes, mainly because of their properties, such as resistance to high temperatures or pressure.
Several methods can be used to heat households or public buildings. Arranging distribution of hot water or gas using pipes made from a suitable material is most often necessary for this purpose. PE-Xb pipes, which are distinguished by their resistance to high temperatures and pressure, have excellent properties for distribution of water and gas for subsequent heating purposes.
Why to Use PE-Xb Pipes for Heating?

PRESSURE RESISTANCE
No problems even if the pressure control fails
SCRATCH RESISTANCE
No problems with rough surrounding and by installation on construction side

HIGH RELIABILITY
Extended life time and material stability without need of further repairs or maintenance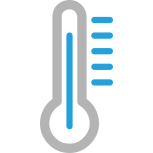 HIGH TEMPERATURE RESISTANCE
PE-Xb pipes do not loosen from fittings due to high construction stability and fewer system failures 
Importance of safe heat distribution
When creating a distribution system for heating buildings, the reliability of the material is of crucial importance. The material must be resistant to unfavourable conditions inside and outside. Pipes made using PE-Xb technology meet these requirements and are also excellent for use as central heating or under-floor heating pipes.
Ask for PE-Xb Heating Pipes
Why to use PE-Xb for heating?
PE-Xb pipes are resistant to high temperatures and pressure and are therefore the ideal material for constructing heating systems.
Which benefits this material offers?
As well as excellent resistance to high temperatures and pressure, PE-Xb pipes also withstand low temperatures. They also enable easy installation and minimisation of costs for construction of water distribution systems due to their high flexibility.
Is PE-Xb harder to install?
Installation of PE-Xb pipes is much simpler thanks to their greater flexibility, which enables reduction of the number of connections to the minimum.
Where to buy products from PE-Xb?
Pipes made from unique material manufactured using PE-Xb technology are freely available and offered by a number of manufacturers and distributors.
Utilization of PE-Xb Worldwide
of all sanitary pipes are made of PE-Xb
of plumbers rely on PE-Xb pipes
PE‑Xa
PE‑Xb
PE‑Xc
PE‑RT
PP‑R
Do you have any questions?
Leave us an e-mail. We will contact you in turn.