Water Supply Using PE-Xb Pipes
PE-Xb is the only material of choice under future conditions of increased chlorination of potable water, which has a significant impact on material performance in piping systems. Pipes made using PE-Xb technology are also the ideal choice for constructing water distribution systems in households, hospitals, restaurants or swimming pools.
The water supply pipeline is used to supply water in households and in public buildings. It consists of pumps and pipes, which must be made from sufficiently high-quality material in order to resist high temperatures and the chlorine added to the water as a disinfectant. PE-Xb plastic water pipes offer these specific properties.
Why to Use PE-Xb Sanitary Pipes?

PRESSURE RESISTANCE
Safety buffer in case that water expands bringing enormous pressure to the pipe wall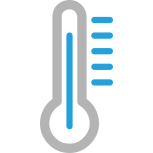 HIGH TEMPERATURE RESISTANCE
PE-Xb pipe offers problem-free usage in case of hot water applications

DISINFECTANT RESISTANCE
Resistant against chemical corrosion – prepared for any further disinfectant level in drinking water increase
SCRATCH RESISTANCE
Less vulnerable by installation and treatment on construction site and resistant to slow crack propagation
Importance of safe water conveyance
Drinking water is an essential part of our every-day lives. Interruption of the water supply or contamination of the water pipes can have serious consequences. The pipes, which transport the drinking water to our taps, play a particularly important role for safe water transport. Their properties must be so good that they must be resistant to external conditions and the effects of hot chlorinated water.
Ask for PE-Xb Water Pipes
Why to use PE-Xb pipes for water supply?
PE-Xb pipes have the ideal properties for constructing water distribution systems in households, hospitals, restaurants or even in swimming pools. They are highly-resistant to high temperatures and chemicals, including chlorine.
Which other benefits this material offers?
As well as superior resistance to high temperatures and chlorinated water, PE-Xb pipes also withstand low temperatures and are resistant to high pressure. Thanks to their flexibility, they also allow for easy installation using a smaller number of connections, which means they reduce costs for construction of water distribution systems.
Is PE-Xb harder to install?
Installation of PE-Xb pipes is much simpler thanks to their greater flexibility, which enables reduction of the number of connections to the minimum.
Where to buy products from PE-Xb?
Pipes made from unique material manufactured using PE-Xb technology are freely available and offered by a number of manufacturers and distributors.
Utilization of PE-Xb Worldwide
of all sanitary pipes are made of PE-Xb
of plumbers rely on PE-Xb pipes
PE‑Xa
PE‑Xb
PE‑Xc
PE‑RT
PP‑R
Do you have any questions?
Leave us an e-mail. We will contact you in turn.